Gateway for
measurement values
Fieldgate FXA42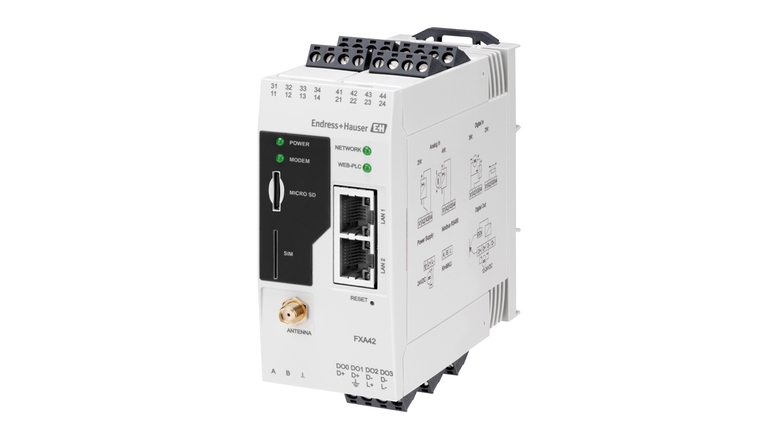 Communication of measurement values of connected 4 to 20mA analog as well as digital field devices
Fieldgate FXA42 is developed for monitoring of field devices with digital or 4 to 20mA interface regardless of location. It supports communication interfaces like Ethernet, WLAN or cellular communication. With its integrated web server technology it can easily be configured online and measured values can be visualized online. FXA42 also offers data logging and alarm management functions.
クイック選択
推奨オプションから選択
個別のコンフギュレータ
すべての使用可能なオプションから選択を続行
利点

Level, flow and pressure visualization at the desk regardless of location

Simple configuration of Fieldgate and easy visualization of measured values via its integrated web server

Connects to SupplyCare Enterprise and SupplyCare Hosting

Advanced...
アプリケーション

For remote monitoring of connected 4 to 20mA analog as well as digital field devices via Ethernet, WLAN or cellular communication.

Measured values can be viewed with a standard internet browser

Configuration of measuring and transmission cycles

...
アクセサリ / スペアパーツ
Fixed Antenna: LTE, GSM, UMTS, WLAN

Fixed antenna for mounting on vertical surfaces. Cable length: 3m. アプリケーション: LTE 800MHz, LTE 2.6GHz, GSM 900/1800, UMTS, WLAN 2.4GHz (WiMAX, WiFi). 用途: FXA42. Indoor and outdoor use. Mounting via bracket. Omnidirectional characteristic. Radiator protected by a plastic tube. HF-cable connected directly to antenna. 10cm clearance between antenna by 15dB isolation.

アナログ - Modbus TCP 変換器

Datexel DAT8017-I Server. Ethernet 10/100 Base-T, Modbus TCP. 8 analog inputs. DIN rail mounting. Application: Analog to Modbus protocol conversion. Galvanic isolated connection for up to 8 analog sensors with active current output. Integrated web server. Usage: FXA42.