Chromate analyzer
Liquiline System CA80CR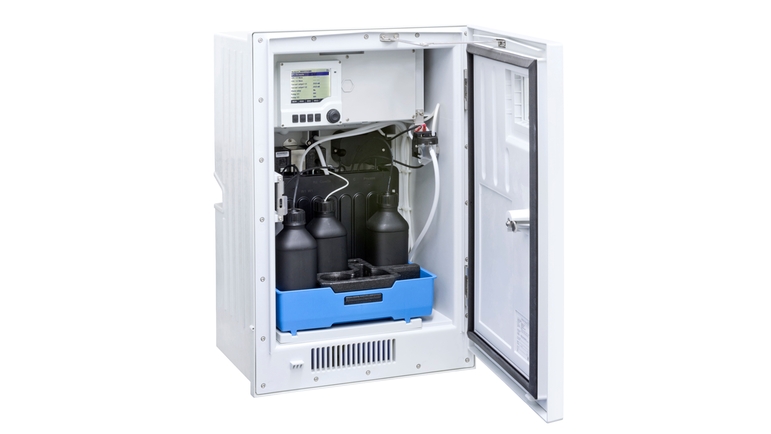 Colorimetric system for the monitoring of industrial wastewater and optimization of process control
Liquiline System CA80CR offers highly accurate online measurement for optimized chromate removal in industrial wastewater. It supports you in achieving environmentally compliant electroplating and tanning processes. Like all Liquiline System analyzers, CA80CR enables plug & play of up to four Memosens sensors - minimizing the installation effort. Automatic calibration and cleaning plus advanced diagnostics with remote access ensure consistent process safety.
標準的製品

高い信頼性と堅牢性、容易なメンテナンス
技術的卓越性
シンプルさ
特殊仕様の製品

要件の厳しいアプリケーション向けに設計
技術的卓越性
シンプルさ
FLEX セレクション
技術的卓越性
シンプルさ

Fundamental セレクション

基本的な測定要件に対応

技術的卓越性

シンプルさ

技術的卓越性

シンプルさ

Extended セレクション

革新的な技術でプロセスを最適化

技術的卓越性

シンプルさ

Xpert セレクション

最も困難なアプリケーションにも対応

技術的卓越性

シンプルさ
仕様一覧

測定範囲

0.03~2.5 mg/l Cr(VI)
0.2~5.0 mg/l Cr(VI)
0.2~5.0 mg/l、希釈機能付き(最大10~250 mg/l Cr(VI))

プロセス温度

プロセス圧力
Loading alternative products
クイック選択
推奨オプションから選択
個別のコンフギュレータ
すべての使用可能なオプションから選択を続行
利点

Standardized colorimetric measuring principle - diphenyle carbazide method - guarantees compliance with discharge regulations.

Reduced operating costs through automatic calibration and cleaning and low reagent consumption.

Simple maintenance: no tools...
アプリケーション

Liquiline System CA80CR supports you in improving the environmental performance of your processes by:

Monitoring and optimizing the cleaning capacity of industrial wastewater treatment plants.

Effluent monitoring in tanneries and electroplating plants.

...
ドキュメント/マニュアル/ソフトウェア
Liquiline System CA80CR

クロム酸塩(Cr(VI))用比色アナライザ

Memosens 取扱説明書

Memosens プロトコル付きセンサ

Liquiline System CA80CR

クロム酸塩(Cr(VI))用比色アナライザ

Liquiline System CA80CR

クロム酸塩用比色アナライザ

Kit CA80 Outdoor

Kit for mounting analyzer on a post outdoor

CM44x/R/P / CSFxx / CA80xx

Webserver Guideline

Special Documentation Liquiline 4-wire Platform

EtherNet/IP guideline

Activation codes kit

For extended functionality

CM44x/R/P / CSFxx / CA80xx

PROFIBUS Guideline

Special Documentation Liquiline 4-wire Platform

Modbus Guideline

Catálogo Analizadores

Analizadores, sensores y tomamuestras in situ

Analysatoren, In-Situ-Sensoren und Probenehmer

Kompetenz in Flüssigkeitsanalyse

Analizzatori, sensori in loco e campionatori

Esperti nell'analisi dei liquidi

Analyzers, in-situ sensors and samplers

Experts in Liquid Analysis

Analizzatori, sensori in loco e campionatori

Esperti nell'analisi dei liquidi

Analyseurs, capteurs in situ et préleveurs

Experts en analyses physico-chimiques

Einleitergrenzwerte im Griff

Liquiline System CA80CR Chromatanalysator und Probenaufbereitung

Discharge limits under control

American version: Liquiline System CA80CR chromate analyzer and sample
preparation
systems

Cromatanalysator 
Liquiline System CA80CR

Colorimetrischer Analyser für Nitrit (No2) für die Überwachung von
Trinkwasser und
Mineralwasserabfüllung, sowie zur Qualitätssicherung des Rohwasser in
der
Nahrungsmittelindustrie

Firmware for Liquiline platform - version 01.08.00

Firmware for Liquiline CM44(R), Liquiline CM44P(R), Liquistation CSF34,
Liquistation CSF48, Liquiport CSP44, Liquiline System CA80

GSD Single, GSD_EH_DP_AN_LiquilineCA80xx_0x155E, 29.06.2020 (Analysis, Liquiline, 0x155E)

PROFIBUS DP,

PROFIBUS System Version: Any

General Station Description (GSD)

1.30

EDS Single, EDS_EH_EIP_AN_Liquiline_0x109F_0x02_0x01, 30.07.2016 (Analysis, Liquiline)

EtherNet/IP,

EtherNet IP System Version: Any

Electronic Data Sheet (EDS)

2.1

EDD Single, PDM_DP_AN_Liquiline_0x155E_0x04_0x01, 05.08.2016 (Analysis, Liquiline, 0x155E)

PROFIBUS DP,

PDM Version: 6.1, 8.2

Electronic Data Description (EDD)

1.00.00

DTM Single, Liquiline_CA80xx_DP_FW_01_06_zz_Dev_Rev_4, 06.11.2020 (Analysis, Liquiline, 0x155E)

PROFIBUS DP,

DeviceCare Version: 1.07.00

Field Xpert - SMT70 Version: 1.05.00

FieldCare Version: 2.15.00

PACTware Version: 4.1

Device Type Manager (DTM)

1.11.0.0

DTM Single, Liquiline_CA80xx_DP_FW_01_07_zz_Dev_Rev_4, 06.11.2020 (Analysis, Liquiline, 0x155E)

PROFIBUS DP,

DeviceCare Version: 1.07.00

Field Xpert - SMT70 Version: 1.05.00

FieldCare Version: 2.15.00

PACTware Version: 5.0

Device Type Manager (DTM)

1.11.0.0

DTM Single, Liquiline_CA80xx_CDI_FW_1_06_zz_Dev_Rev_01, 18.11.2020 (Analysis, Liquiline, 0x119F)

Common Device Interface,

DeviceCare Version: 1.07.00

Field Xpert - SMT70 Version: 1.05.00

FieldCare Version: 2.15.00

Device Type Manager (DTM)

1.0.14.0

AOP Single, RS_EIP_AN_Liquiline_CA80xx_0x109F_0x02_0x01_AOP, 27.06.2018 (Analysis, Liquiline)

EtherNet/IP,

RA RSLogix 5000 Version: V15 and later

Add On Profile (AOP)

1.22

ComDTM Single, CDI_CommDTM, 02.12.2019

Common Device Interface,

DeviceCare Version: 1.05.00

FieldCare Version: 2.13.00

Communication DTM

2.09.07

Colorimetric measuring principle

Nutrients, metals or carbon components in a liquid can be measured using
the colorimetric measuring principle with or without digestion. This
video shows what it is about and how this measuring principle work.

Kolorimetrisches Messprinzip

Mit Hilfe des kolorimetrischen Messprinzips mit oder ohne Aufschluss
können Nährstoffe, Metalle oder Kohlenstoffe in einer Flüssigkeit
gemessen werden. Dieses Video zeigt, worum es dabei geht und wie
dieses Messprinzip funktioniert.

CY80CR-AF+TM (Turkey)

Standard solution Cr (VI) 2,0 mg/l

Reagents/standard solutions/cleaner for analyzer

CY80CR-AF+TL (New Zealand)

Standard solution Cr (VI) 1,0 mg/l

Reagents/standard solutions/cleaner for analyzer

CY80CR-AF+SG (Finland)

Reagent set (SG) for CA80CR

Reagents/standard solutions/cleaner for analyzer

CY80CR-AF+TM (Spain)

Standard solution Cr (VI) 2,0 mg/l

Reagents/standard solutions/cleaner for analyzer

CY80CR-AF+TM (Switzerland (French))

Standard solution Cr (VI) 2,0 mg/l

Reagents/standard solutions/cleaner for analyzer

CY80CR-AF+TV (China)

Standard solution Cr (VI) 250 mg/l

Reagents/standard solutions/cleaner for analyzer

CY80CR-AF+SG (Switzerland)

Reagent set (SG) for CA80CR

Reagents/standard solutions/cleaner for analyzer

CY80CR-AF+TL (Bulgaria)

Standard solution Cr (VI) 1,0 mg/l

Reagents/standard solutions/cleaner for analyzer

CY80CR-AF+SG (Czech Republic)

Reagent set (SG) for CA80CR

Reagents/standard solutions/cleaner for analyzer

CY80CR-AF+TG (Austria)

Standard solution Cr (VI) 0 mg/l

Reagents/standard solutions/cleaner for analyzer

CY80CR-AF+TG (Poland)

Standard solution Cr (VI) 0 mg/l

Reagents/standard solutions/cleaner for analyzer

CY80CR-AF+TO (Belgium)

Standard solution Cr (VI) 4,0 mg/l

Reagents/standard solutions/cleaner for analyzer

CY80CR-AF+TO (Canada (French))

Standard solution Cr (VI) 4,0 mg/l

Reagents/standard solutions/cleaner for analyzer

CY80CR-AF+TV (India)

Standard solution Cr (VI) 250 mg/l

Reagents/standard solutions/cleaner for analyzer

CY800-AFx1 (Japan)

Cleaning solution for CA80CR

Reagents/standard solutions/cleaner for analyzer

CY80CR-AF+TL (Germany)

Standard solution Cr (VI) 1,0 mg/l

Reagents/standard solutions/cleaner for analyzer

CY80CR-AF+TL (Lithuania)

Standard solution Cr (VI) 1,0 mg/l

Reagents/standard solutions/cleaner for analyzer

CY80CR-AF+TL (Netherlands)

Standard solution Cr (VI) 1,0 mg/l

Reagents/standard solutions/cleaner for analyzer

CY80CR-AF+TO (Canada)

Standard solution Cr (VI) 4,0 mg/l

Reagents/standard solutions/cleaner for analyzer

CY800-AFx1 (Australia)

Cleaning solution for CA80CR

Reagents/standard solutions/cleaner for analyzer

CY80CR-AF+TG (Finland)

Standard solution Cr (VI) 0 mg/l

Reagents/standard solutions/cleaner for analyzer

CY80CR-AF+TG (Slovenia)

Standard solution Cr (VI) 0 mg/l

Reagents/standard solutions/cleaner for analyzer

CY80CR-AF+TL (Greece)

Standard solution Cr (VI) 1,0 mg/l

Reagents/standard solutions/cleaner for analyzer

CY80CR-AF+TM (Sweden)

Standard solution Cr (VI) 2,0 mg/l

Reagents/standard solutions/cleaner for analyzer

CY800-AFx1 (United Kingdom)

Cleaning solution for CA80CR

Reagents/standard solutions/cleaner for analyzer

CY80CR-AF+TV (Sweden)

Standard solution Cr (VI) 250 mg/l

Reagents/standard solutions/cleaner for analyzer

CY80CR-AF+TM (China)

Standard solution Cr (VI) 2,0 mg/l

Reagents/standard solutions/cleaner for analyzer

CY80CR-AF+TV (Austria)

Standard solution Cr (VI) 250 mg/l

Reagents/standard solutions/cleaner for analyzer

CY80CR-AF+TL (Estonia)

Standard solution Cr (VI) 1,0 mg/l

Reagents/standard solutions/cleaner for analyzer

CY80CR-AF+TG (Italy)

Standard solution Cr (VI) 0 mg/l

Reagents/standard solutions/cleaner for analyzer

CY80CR-AF+TV (Australia)

Standard solution Cr (VI) 250 mg/l

Reagents/standard solutions/cleaner for analyzer

CY80CR-AF+TL (Japan)

Standard solution Cr (VI) 1,0 mg/l

Reagents/standard solutions/cleaner for analyzer

CY80CR-AF+TL (Portugal)

Standard solution Cr (VI) 1,0 mg/l

Reagents/standard solutions/cleaner for analyzer

CY80CR-AF+TO (United Arab Emirates)

Standard solution Cr (VI) 4,0 mg/l

Reagents/standard solutions/cleaner for analyzer

CY80CR-AF+TO (United Arab Emirates)

Standard solution Cr (VI) 4,0 mg/l

Reagents/standard solutions/cleaner for analyzer

CY80CR-AF+SG (Latvia)

Reagent set (SG) for CA80CR

Reagents/standard solutions/cleaner for analyzer

CY80CR-AF+TV (Switzerland)

Standard solution Cr (VI) 250 mg/l

Reagents/standard solutions/cleaner for analyzer

CY80CR-AF+TO (Lithuania)

Standard solution Cr (VI) 4,0 mg/l

Reagents/standard solutions/cleaner for analyzer

CY80CR-AF+TV (Switzerland (Italian))

Standard solution Cr (VI) 250 mg/l

Reagents/standard solutions/cleaner for analyzer

CY80CR-AF+TM (France)

Standard solution Cr (VI) 2,0 mg/l

Reagents/standard solutions/cleaner for analyzer

CY80CR-AF+TV (United Kingdom)

Standard solution Cr (VI) 250 mg/l

Reagents/standard solutions/cleaner for analyzer

CY80CR-AF+TG (Estonia)

Standard solution Cr (VI) 0 mg/l

Reagents/standard solutions/cleaner for analyzer

CY80CR-AF+TV (Belgium (Dutch))

Standard solution Cr (VI) 250 mg/l

Reagents/standard solutions/cleaner for analyzer

CY80CR-AF+TV (Croatia)

Standard solution Cr (VI) 250 mg/l

Reagents/standard solutions/cleaner for analyzer

CY80CR-AF+TG (Russia)

Standard solution Cr (VI) 0 mg/l

Reagents/standard solutions/cleaner for analyzer

CY80CR-AF+TG (Turkey)

Standard solution Cr (VI) 0 mg/l

Reagents/standard solutions/cleaner for analyzer

CY80CR-AF+TM (Hungary)

Standard solution Cr (VI) 2,0 mg/l

Reagents/standard solutions/cleaner for analyzer

CY80CR-AF+TL (Russia)

Standard solution Cr (VI) 1,0 mg/l

Reagents/standard solutions/cleaner for analyzer

CY800-AFx1 (Slovakia)

Cleaning solution for CA80CR

Reagents/standard solutions/cleaner for analyzer

CY80CR-AF+TV (Ukraine)

Standard solution Cr (VI) 250 mg/l

Reagents/standard solutions/cleaner for analyzer

CY800-AFx1 (India)

Cleaning solution for CA80CR

Reagents/standard solutions/cleaner for analyzer

CY80CR-AF+TO (Belgium (Dutch))

Standard solution Cr (VI) 4,0 mg/l

Reagents/standard solutions/cleaner for analyzer

CY80CR-AF+TL (United Arab Emirates)

Standard solution Cr (VI) 1,0 mg/l

Reagents/standard solutions/cleaner for analyzer

CY800-AFx1 (Belgium)

Cleaning solution for CA80CR

Reagents/standard solutions/cleaner for analyzer

CY80CR-AF+TO (Estonia)

Standard solution Cr (VI) 4,0 mg/l

Reagents/standard solutions/cleaner for analyzer

CY80CR-AF+SG (Denmark)

Reagent set (SG) for CA80CR

Reagents/standard solutions/cleaner for analyzer

CY80CR-AF+SG (Belgium (Dutch))

Reagent set (SG) for CA80CR

Reagents/standard solutions/cleaner for analyzer

CY80CR-AF+TG (United Arab Emirates)

Standard solution Cr (VI) 0 mg/l

Reagents/standard solutions/cleaner for analyzer

CY80CR-AF+TO (Austria)

Standard solution Cr (VI) 4,0 mg/l

Reagents/standard solutions/cleaner for analyzer

CY80CR-AF+TM (Norway)

Standard solution Cr (VI) 2,0 mg/l

Reagents/standard solutions/cleaner for analyzer

CY80CR-AF+SG (Greece)

Reagent set (SG) for CA80CR

Reagents/standard solutions/cleaner for analyzer

CY80CR-AF+TV (Estonia)

Standard solution Cr (VI) 250 mg/l

Reagents/standard solutions/cleaner for analyzer

CY80CR-AF+TV (Greece)

Standard solution Cr (VI) 250 mg/l

Reagents/standard solutions/cleaner for analyzer

CY80CR-AF+TG (USA)

Standard solution Cr (VI) 0 mg/l

Reagents/standard solutions/cleaner for analyzer

CY80CR-AF+TL (Hungary)

Standard solution Cr (VI) 1,0 mg/l

Reagents/standard solutions/cleaner for analyzer

CY80CR-AF+TL (United Kingdom)

Standard solution Cr (VI) 1,0 mg/l

Reagents/standard solutions/cleaner for analyzer

CY80CR-AF+TO (Poland)

Standard solution Cr (VI) 4,0 mg/l

Reagents/standard solutions/cleaner for analyzer

CY800-AFx1 (Russia)

Cleaning solution for CA80CR

Reagents/standard solutions/cleaner for analyzer

CY80CR-AF+TO (New Zealand)

Standard solution Cr (VI) 4,0 mg/l

Reagents/standard solutions/cleaner for analyzer

CY80CR-AF+TL (Switzerland)

Standard solution Cr (VI) 1,0 mg/l

Reagents/standard solutions/cleaner for analyzer

CY80CR-AF+SG (Turkey)

Reagent set (SG) for CA80CR

Reagents/standard solutions/cleaner for analyzer

CY80CR-AF+SG (Croatia)

Reagent set (SG) for CA80CR

Reagents/standard solutions/cleaner for analyzer

CY80CR-AF+TG (Switzerland (Italian))

Standard solution Cr (VI) 0 mg/l

Reagents/standard solutions/cleaner for analyzer

CY80CR-AF+TG (Canada (French))

Standard solution Cr (VI) 0 mg/l

Reagents/standard solutions/cleaner for analyzer

CY80CR-AF+TG (Ireland)

Standard solution Cr (VI) 0 mg/l

Reagents/standard solutions/cleaner for analyzer

CY800-AFx1 (Mexico)

Cleaning solution for CA80CR

Reagents/standard solutions/cleaner for analyzer

CY80CR-AF+TG (Switzerland (French))

Standard solution Cr (VI) 0 mg/l

Reagents/standard solutions/cleaner for analyzer

CY80CR-AF+TM (Lithuania)

Standard solution Cr (VI) 2,0 mg/l

Reagents/standard solutions/cleaner for analyzer

CY800-AFx1 (Switzerland (French))

Cleaning solution for CA80CR

Reagents/standard solutions/cleaner for analyzer

CY80CR-AF+SG (Slovakia)

Reagent set (SG) for CA80CR

Reagents/standard solutions/cleaner for analyzer

CY80CR-AF+TV (Denmark)

Standard solution Cr (VI) 250 mg/l

Reagents/standard solutions/cleaner for analyzer

CY800-AFx1 (Czech Republic)

Cleaning solution for CA80CR

Reagents/standard solutions/cleaner for analyzer

CY80CR-AF+SG (Russia)

Reagent set (SG) for CA80CR

Reagents/standard solutions/cleaner for analyzer

CY80CR-AF+TV (Spain)

Standard solution Cr (VI) 250 mg/l

Reagents/standard solutions/cleaner for analyzer

CY80CR-AF+TM (Netherlands)

Standard solution Cr (VI) 2,0 mg/l

Reagents/standard solutions/cleaner for analyzer

CY80CR-AF+TO (Slovakia)

Standard solution Cr (VI) 4,0 mg/l

Reagents/standard solutions/cleaner for analyzer

CY80CR-AF+TL (Finland)

Standard solution Cr (VI) 1,0 mg/l

Reagents/standard solutions/cleaner for analyzer

CY80CR-AF+TO (India)

Standard solution Cr (VI) 4,0 mg/l

Reagents/standard solutions/cleaner for analyzer

CY80CR-AF+SG (Hungary)

Reagent set (SG) for CA80CR

Reagents/standard solutions/cleaner for analyzer

CY80CR-AF+TV (Latvia)

Standard solution Cr (VI) 250 mg/l

Reagents/standard solutions/cleaner for analyzer

CY800-AFx1 (Greece)

Cleaning solution for CA80CR

Reagents/standard solutions/cleaner for analyzer

CY80CR-AF+TM (United Arab Emirates)

Standard solution Cr (VI) 2,0 mg/l

Reagents/standard solutions/cleaner for analyzer

CY80CR-AF+TL (Belgium)

Standard solution Cr (VI) 1,0 mg/l

Reagents/standard solutions/cleaner for analyzer

CY80CR-AF+TM (USA)

Standard solution Cr (VI) 2,0 mg/l

Reagents/standard solutions/cleaner for analyzer

CY80CR-AF+TM (Denmark)

Standard solution Cr (VI) 2,0 mg/l

Reagents/standard solutions/cleaner for analyzer

CY80CR-AF+TM (Ukraine)

Standard solution Cr (VI) 2,0 mg/l

Reagents/standard solutions/cleaner for analyzer

CY800-AFx1 (Canada (French))

Cleaning solution for CA80CR

Reagents/standard solutions/cleaner for analyzer

CY80CR-AF+TV (Canada)

Standard solution Cr (VI) 250 mg/l

Reagents/standard solutions/cleaner for analyzer

CY80CR-AF+SG (South Africa)

Reagent set (SG) for CA80CR

Reagents/standard solutions/cleaner for analyzer

CY800-AFx1 (Malta)

Cleaning solution for CA80CR

Reagents/standard solutions/cleaner for analyzer

CY80CR-AF+TG (Spain)

Standard solution Cr (VI) 0 mg/l

Reagents/standard solutions/cleaner for analyzer

CY80CR-AF+TV (Canada (French))

Standard solution Cr (VI) 250 mg/l

Reagents/standard solutions/cleaner for analyzer

CY80CR-AF+TV (Saudi Arabien)

Standard solution Cr (VI) 250 mg/l

Reagents/standard solutions/cleaner for analyzer

CY80CR-AF+SG (Saudi Arabien)

Reagent set (SG) for CA80CR

Reagents/standard solutions/cleaner for analyzer

CY800-AFx1 (Switzerland (Italian))

Cleaning solution for CA80CR

Reagents/standard solutions/cleaner for analyzer

CY80CR-AF+TG (China)

Standard solution Cr (VI) 0 mg/l

Reagents/standard solutions/cleaner for analyzer

CY80CR-AF+TO (United Kingdom)

Standard solution Cr (VI) 4,0 mg/l

Reagents/standard solutions/cleaner for analyzer

CY80CR-AF+TM (Russia)

Standard solution Cr (VI) 2,0 mg/l

Reagents/standard solutions/cleaner for analyzer

CY80CR-AF+TL (Croatia)

Standard solution Cr (VI) 1,0 mg/l

Reagents/standard solutions/cleaner for analyzer

CY80CR-AF+TO (Norway)

Standard solution Cr (VI) 4,0 mg/l

Reagents/standard solutions/cleaner for analyzer

CY80CR-AF+TG (Canada)

Standard solution Cr (VI) 0 mg/l

Reagents/standard solutions/cleaner for analyzer

CY80CR-AF+TM (Canada (French))

Standard solution Cr (VI) 2,0 mg/l

Reagents/standard solutions/cleaner for analyzer

CY80CR-AF+TG (South Africa)

Standard solution Cr (VI) 0 mg/l

Reagents/standard solutions/cleaner for analyzer

CY80CR-AF+TM (Slovenia)

Standard solution Cr (VI) 2,0 mg/l

Reagents/standard solutions/cleaner for analyzer

CY800-AFx1 (Hungary)

Cleaning solution for CA80CR

Reagents/standard solutions/cleaner for analyzer

CY80CR-AF+TM (Mexico)

Standard solution Cr (VI) 2,0 mg/l

Reagents/standard solutions/cleaner for analyzer

CY80CR-AF+TO (Russia)

Standard solution Cr (VI) 4,0 mg/l

Reagents/standard solutions/cleaner for analyzer

CY80CR-AF+TL (India)

Standard solution Cr (VI) 1,0 mg/l

Reagents/standard solutions/cleaner for analyzer

CY80CR-AF+TM (India)

Standard solution Cr (VI) 2,0 mg/l

Reagents/standard solutions/cleaner for analyzer

CY80CR-AF+TM (Austria)

Standard solution Cr (VI) 2,0 mg/l

Reagents/standard solutions/cleaner for analyzer

CY80CR-AF+SG (New Zealand)

Reagent set (SG) for CA80CR

Reagents/standard solutions/cleaner for analyzer

CY80CR-AF+TO (Mexico)

Standard solution Cr (VI) 4,0 mg/l

Reagents/standard solutions/cleaner for analyzer

CY80CR-AF+TV (Italy)

Standard solution Cr (VI) 250 mg/l

Reagents/standard solutions/cleaner for analyzer

CY80CR-AF+SG (Ukraine)

Reagent set (SG) for CA80CR

Reagents/standard solutions/cleaner for analyzer

CY80CR-AF+TV (Finland)

Standard solution Cr (VI) 250 mg/l

Reagents/standard solutions/cleaner for analyzer

CY80CR-AF+TG (Slovakia)

Standard solution Cr (VI) 0 mg/l

Reagents/standard solutions/cleaner for analyzer

CY80CR-AF+TO (Romania)

Standard solution Cr (VI) 4,0 mg/l

Reagents/standard solutions/cleaner for analyzer

CY800-AFx1 (South Korea)

Cleaning solution for CA80CR

Reagents/standard solutions/cleaner for analyzer

CY80CR-AF+TM (Ireland)

Standard solution Cr (VI) 2,0 mg/l

Reagents/standard solutions/cleaner for analyzer

CY80CR-AF+SG (France)

Reagent set (SG) for CA80CR

Reagents/standard solutions/cleaner for analyzer

CY80CR-AF+TV (Portugal)

Standard solution Cr (VI) 250 mg/l

Reagents/standard solutions/cleaner for analyzer

CY80CR-AF+TG (Belgium (Dutch))

Standard solution Cr (VI) 0 mg/l

Reagents/standard solutions/cleaner for analyzer

CY80CR-AF+TL (Canada (French))

Standard solution Cr (VI) 1,0 mg/l

Reagents/standard solutions/cleaner for analyzer

CY80CR-AF+TV (USA)

Standard solution Cr (VI) 250 mg/l

Reagents/standard solutions/cleaner for analyzer

CY800-AFx1 (Slovenia)

Cleaning solution for CA80CR

Reagents/standard solutions/cleaner for analyzer

CY80CR-AF+TV (Malta)

Standard solution Cr (VI) 250 mg/l

Reagents/standard solutions/cleaner for analyzer

CY80CR-AF+TO (Czech Republic)

Standard solution Cr (VI) 4,0 mg/l

Reagents/standard solutions/cleaner for analyzer

CY800-AFx1 (Latvia)

Cleaning solution for CA80CR

Reagents/standard solutions/cleaner for analyzer

CY80CR-AF+TL (United Arab Emirates)

Standard solution Cr (VI) 1,0 mg/l

Reagents/standard solutions/cleaner for analyzer

CY800-AFx1 (Italy)

Cleaning solution for CA80CR

Reagents/standard solutions/cleaner for analyzer

CY80CR-AF+TG (Bulgaria)

Standard solution Cr (VI) 0 mg/l

Reagents/standard solutions/cleaner for analyzer

CY800-AFx1 (Croatia)

Cleaning solution for CA80CR

Reagents/standard solutions/cleaner for analyzer

CY80CR-AF+TO (Malta)

Standard solution Cr (VI) 4,0 mg/l

Reagents/standard solutions/cleaner for analyzer

CY80CR-AF+TG (Ukraine)

Standard solution Cr (VI) 0 mg/l

Reagents/standard solutions/cleaner for analyzer

CY80CR-AF+TG (Hungary)

Standard solution Cr (VI) 0 mg/l

Reagents/standard solutions/cleaner for analyzer

CY80CR-AF+TV (Poland)

Standard solution Cr (VI) 250 mg/l

Reagents/standard solutions/cleaner for analyzer

CY80CR-AF+TO (China)

Standard solution Cr (VI) 4,0 mg/l

Reagents/standard solutions/cleaner for analyzer

CY80CR-AF+TL (South Africa)

Standard solution Cr (VI) 1,0 mg/l

Reagents/standard solutions/cleaner for analyzer

CY80CR-AF+TL (Mexico)

Standard solution Cr (VI) 1,0 mg/l

Reagents/standard solutions/cleaner for analyzer

CY80CR-AF+SG (Lithuania)

Reagent set (SG) for CA80CR

Reagents/standard solutions/cleaner for analyzer

CY80CR-AF+TO (Finland)

Standard solution Cr (VI) 4,0 mg/l

Reagents/standard solutions/cleaner for analyzer

CY80CR-AF+TM (Belgium)

Standard solution Cr (VI) 2,0 mg/l

Reagents/standard solutions/cleaner for analyzer

CY80CR-AF+SG (Canada (French))

Reagent set (SG) for CA80CR

Reagents/standard solutions/cleaner for analyzer

CY80CR-AF+SG (United Arab Emirates)

Reagent set (SG) for CA80CR

Reagents/standard solutions/cleaner for analyzer

CY80CR-AF+SG (USA)

Reagent set (SG) for CA80CR

Reagents/standard solutions/cleaner for analyzer

CY80CR-AF+SG (Switzerland (French))

Reagent set (SG) for CA80CR

Reagents/standard solutions/cleaner for analyzer

CY80CR-AF+TM (Italy)

Standard solution Cr (VI) 2,0 mg/l

Reagents/standard solutions/cleaner for analyzer

CY800-AFx1 (Austria)

Cleaning solution for CA80CR

Reagents/standard solutions/cleaner for analyzer

CY80CR-AF+TV (Netherlands)

Standard solution Cr (VI) 250 mg/l

Reagents/standard solutions/cleaner for analyzer

CY80CR-AF+TM (Canada)

Standard solution Cr (VI) 2,0 mg/l

Reagents/standard solutions/cleaner for analyzer

CY80CR-AF+TG (Belgium)

Standard solution Cr (VI) 0 mg/l

Reagents/standard solutions/cleaner for analyzer

CY80CR-AF+SG (Norway)

Reagent set (SG) for CA80CR

Reagents/standard solutions/cleaner for analyzer

CY800-AFx1 (Turkey)

Cleaning solution for CA80CR

Reagents/standard solutions/cleaner for analyzer

CY800-AFx1 (Denmark)

Cleaning solution for CA80CR

Reagents/standard solutions/cleaner for analyzer

CY80CR-AF+TO (Italy)

Standard solution Cr (VI) 4,0 mg/l

Reagents/standard solutions/cleaner for analyzer

CY800-AFx1 (France)

Cleaning solution for CA80CR

Reagents/standard solutions/cleaner for analyzer

CY80CR-AF+SG (Slovenia)

Reagent set (SG) for CA80CR

Reagents/standard solutions/cleaner for analyzer

CY80CR-AF+TV (Lithuania)

Standard solution Cr (VI) 250 mg/l

Reagents/standard solutions/cleaner for analyzer

CY800-AFx1 (Ukraine)

Cleaning solution for CA80CR

Reagents/standard solutions/cleaner for analyzer

CY80CR-AF+TV (Romania)

Standard solution Cr (VI) 250 mg/l

Reagents/standard solutions/cleaner for analyzer

CY80CR-AF+TG (Germany)

Standard solution Cr (VI) 0 mg/l

Reagents/standard solutions/cleaner for analyzer

CY80CR-AF+TO (Slovenia)

Standard solution Cr (VI) 4,0 mg/l

Reagents/standard solutions/cleaner for analyzer

CY800-AFx1 (United Arab Emirates)

Cleaning solution for CA80CR

Reagents/standard solutions/cleaner for analyzer

CY80CR-AF+SG (Bulgaria)

Reagent set (SG) for CA80CR

Reagents/standard solutions/cleaner for analyzer

CY800-AFx1 (Sweden)

Cleaning solution for CA80CR

Reagents/standard solutions/cleaner for analyzer

CY80CR-AF+TL (Switzerland (French))

Standard solution Cr (VI) 1,0 mg/l

Reagents/standard solutions/cleaner for analyzer

CY80CR-AF+TL (Austria)

Standard solution Cr (VI) 1,0 mg/l

Reagents/standard solutions/cleaner for analyzer

CY80CR-AF+TM (European Union)

Standard solution Cr (VI) 2,0 mg/l

Reagents/standard solutions/cleaner for analyzer

CY80CR-AF+SG (Germany)

Reagent set (SG) for CA80CR

Reagents/standard solutions/cleaner for analyzer

CY80CR-AF+TL (Latvia)

Standard solution Cr (VI) 1,0 mg/l

Reagents/standard solutions/cleaner for analyzer

CY80CR-AF+TG (Netherlands)

Standard solution Cr (VI) 0 mg/l

Reagents/standard solutions/cleaner for analyzer

CY80CR-AF+SG (South Korea)

Reagent set (SG) for CA80CR

Reagents/standard solutions/cleaner for analyzer

CY80CR-AF+TG (Sweden)

Standard solution Cr (VI) 0 mg/l

Reagents/standard solutions/cleaner for analyzer

CY80CR-AF+TV (Hungary)

Standard solution Cr (VI) 250 mg/l

Reagents/standard solutions/cleaner for analyzer

CY80CR-AF+TM (Australia)

Standard solution Cr (VI) 2,0 mg/l

Reagents/standard solutions/cleaner for analyzer

CY80CR-AF+TV (Germany)

Standard solution Cr (VI) 250 mg/l

Reagents/standard solutions/cleaner for analyzer

CY80CR-AF+SG (Ireland)

Reagent set (SG) for CA80CR

Reagents/standard solutions/cleaner for analyzer

CY80CR-AF+TM (Malta)

Standard solution Cr (VI) 2,0 mg/l

Reagents/standard solutions/cleaner for analyzer

CY80CR-AF+TV (Norway)

Standard solution Cr (VI) 250 mg/l

Reagents/standard solutions/cleaner for analyzer

CY80CR-AF+TL (Turkey)

Standard solution Cr (VI) 1,0 mg/l

Reagents/standard solutions/cleaner for analyzer

CY80CR-AF+SG (China)

Reagent set (SG) for CA80CR

Reagents/standard solutions/cleaner for analyzer

CY80CR-AF+TO (Saudi Arabien)

Standard solution Cr (VI) 4,0 mg/l

Reagents/standard solutions/cleaner for analyzer

CY80CR-AF+TG (Australia)

Standard solution Cr (VI) 0 mg/l

Reagents/standard solutions/cleaner for analyzer

CY80CR-AF+TM (Belgium (Dutch))

Standard solution Cr (VI) 2,0 mg/l

Reagents/standard solutions/cleaner for analyzer

CY80CR-AF+TM (Bulgaria)

Standard solution Cr (VI) 2,0 mg/l

Reagents/standard solutions/cleaner for analyzer

CY80CR-AF+TO (Germany)

Standard solution Cr (VI) 4,0 mg/l

Reagents/standard solutions/cleaner for analyzer

CY80CR-AF+SG (Estonia)

Reagent set (SG) for CA80CR

Reagents/standard solutions/cleaner for analyzer

CY80CR-AF+TO (Japan)

Standard solution Cr (VI) 4,0 mg/l

Reagents/standard solutions/cleaner for analyzer

CY80CR-AF+TG (United Kingdom)

Standard solution Cr (VI) 0 mg/l

Reagents/standard solutions/cleaner for analyzer

CY80CR-AF+SG (European Union)

Reagent set (SG) for CA80CR

Reagents/standard solutions/cleaner for analyzer

CY80CR-AF+SG (Poland)

Reagent set (SG) for CA80CR

Reagents/standard solutions/cleaner for analyzer

CY80CR-AF+TL (France)

Standard solution Cr (VI) 1,0 mg/l

Reagents/standard solutions/cleaner for analyzer

CY80CR-AF+TG (Latvia)

Standard solution Cr (VI) 0 mg/l

Reagents/standard solutions/cleaner for analyzer

CY80CR-AF+TM (United Kingdom)

Standard solution Cr (VI) 2,0 mg/l

Reagents/standard solutions/cleaner for analyzer

CY800-AFx1 (Belgium (Dutch))

Cleaning solution for CA80CR

Reagents/standard solutions/cleaner for analyzer

CY800-AFx1 (Norway)

Cleaning solution for CA80CR

Reagents/standard solutions/cleaner for analyzer

CY80CR-AF+SG (Switzerland (Italian))

Reagent set (SG) for CA80CR

Reagents/standard solutions/cleaner for analyzer

CY80CR-AF+TM (Estonia)

Standard solution Cr (VI) 2,0 mg/l

Reagents/standard solutions/cleaner for analyzer

CY80CR-AF+TV (Russia)

Standard solution Cr (VI) 250 mg/l

Reagents/standard solutions/cleaner for analyzer

CY800-AFx1 (Netherlands)

Cleaning solution for CA80CR

Reagents/standard solutions/cleaner for analyzer

CY80CR-AF+TM (Latvia)

Standard solution Cr (VI) 2,0 mg/l

Reagents/standard solutions/cleaner for analyzer

CY80CR-AF+TG (South Korea)

Standard solution Cr (VI) 0 mg/l

Reagents/standard solutions/cleaner for analyzer

CY80CR-AF+TV (Switzerland (French))

Standard solution Cr (VI) 250 mg/l

Reagents/standard solutions/cleaner for analyzer

CY80CR-AF+TV (Mexico)

Standard solution Cr (VI) 250 mg/l

Reagents/standard solutions/cleaner for analyzer

CY80CR-AF+TO (France)

Standard solution Cr (VI) 4,0 mg/l

Reagents/standard solutions/cleaner for analyzer

CY80CR-AF+TG (Norway)

Standard solution Cr (VI) 0 mg/l

Reagents/standard solutions/cleaner for analyzer

CY80CR-AF+TL (USA)

Standard solution Cr (VI) 1,0 mg/l

Reagents/standard solutions/cleaner for analyzer

CY80CR-AF+SG (Italy)

Reagent set (SG) for CA80CR

Reagents/standard solutions/cleaner for analyzer

CY80CR-AF+SG (Mexico)

Reagent set (SG) for CA80CR

Reagents/standard solutions/cleaner for analyzer

CY80CR-AF+SG (Spain)

Reagent set (SG) for CA80CR

Reagents/standard solutions/cleaner for analyzer

CY80CR-AF+TL (South Korea)

Standard solution Cr (VI) 1,0 mg/l

Reagents/standard solutions/cleaner for analyzer

CY80CR-AF+TO (Switzerland (French))

Standard solution Cr (VI) 4,0 mg/l

Reagents/standard solutions/cleaner for analyzer

CY80CR-AF+TO (Sweden)

Standard solution Cr (VI) 4,0 mg/l

Reagents/standard solutions/cleaner for analyzer

CY80CR-AF+TL (European Union)

Standard solution Cr (VI) 1,0 mg/l

Reagents/standard solutions/cleaner for analyzer

CY80CR-AF+TL (Poland)

Standard solution Cr (VI) 1,0 mg/l

Reagents/standard solutions/cleaner for analyzer

CY80CR-AF+TO (Switzerland (Italian))

Standard solution Cr (VI) 4,0 mg/l

Reagents/standard solutions/cleaner for analyzer

CY80CR-AF+SG (Canada)

Reagent set (SG) for CA80CR

Reagents/standard solutions/cleaner for analyzer

CY800-AFx1 (USA)

Cleaning solution for CA80CR

Reagents/standard solutions/cleaner for analyzer

CY80CR-AF+TG (Croatia)

Standard solution Cr (VI) 0 mg/l

Reagents/standard solutions/cleaner for analyzer

CY800-AFx1 (China)

Cleaning solution for CA80CR

Reagents/standard solutions/cleaner for analyzer

CY80CR-AF+TG (Lithuania)

Standard solution Cr (VI) 0 mg/l

Reagents/standard solutions/cleaner for analyzer

CY80CR-AF+TG (Portugal)

Standard solution Cr (VI) 0 mg/l

Reagents/standard solutions/cleaner for analyzer

CY80CR-AF+TG (India)

Standard solution Cr (VI) 0 mg/l

Reagents/standard solutions/cleaner for analyzer

CY80CR-AF+TV (Czech Republic)

Standard solution Cr (VI) 250 mg/l

Reagents/standard solutions/cleaner for analyzer

CY800-AFx1 (Portugal)

Cleaning solution for CA80CR

Reagents/standard solutions/cleaner for analyzer

CY80CR-AF+TO (South Korea)

Standard solution Cr (VI) 4,0 mg/l

Reagents/standard solutions/cleaner for analyzer

CY80CR-AF+TO (European Union)

Standard solution Cr (VI) 4,0 mg/l

Reagents/standard solutions/cleaner for analyzer

CY80CR-AF+TL (Ukraine)

Standard solution Cr (VI) 1,0 mg/l

Reagents/standard solutions/cleaner for analyzer

CY800-AFx1 (Romania)

Cleaning solution for CA80CR

Reagents/standard solutions/cleaner for analyzer

CY80CR-AF+TO (Croatia)

Standard solution Cr (VI) 4,0 mg/l

Reagents/standard solutions/cleaner for analyzer

CY80CR-AF+TG (Denmark)

Standard solution Cr (VI) 0 mg/l

Reagents/standard solutions/cleaner for analyzer

CY80CR-AF+TL (Slovenia)

Standard solution Cr (VI) 1,0 mg/l

Reagents/standard solutions/cleaner for analyzer

CY80CR-AF+TG (Greece)

Standard solution Cr (VI) 0 mg/l

Reagents/standard solutions/cleaner for analyzer

CY80CR-AF+TM (Finland)

Standard solution Cr (VI) 2,0 mg/l

Reagents/standard solutions/cleaner for analyzer

CY80CR-AF+TV (Ireland)

Standard solution Cr (VI) 250 mg/l

Reagents/standard solutions/cleaner for analyzer

CY80CR-AF+TM (New Zealand)

Standard solution Cr (VI) 2,0 mg/l

Reagents/standard solutions/cleaner for analyzer

CY80CR-AF+TL (Italy)

Standard solution Cr (VI) 1,0 mg/l

Reagents/standard solutions/cleaner for analyzer

CY80CR-AF+TM (Saudi Arabien)

Standard solution Cr (VI) 2,0 mg/l

Reagents/standard solutions/cleaner for analyzer

CY80CR-AF+TV (South Korea)

Standard solution Cr (VI) 250 mg/l

Reagents/standard solutions/cleaner for analyzer

CY80CR-AF+TO (Ireland)

Standard solution Cr (VI) 4,0 mg/l

Reagents/standard solutions/cleaner for analyzer

CY80CR-AF+TO (Latvia)

Standard solution Cr (VI) 4,0 mg/l

Reagents/standard solutions/cleaner for analyzer

CY80CR-AF+TO (Switzerland)

Standard solution Cr (VI) 4,0 mg/l

Reagents/standard solutions/cleaner for analyzer

CY800-AFx1 (Lithuania)

Cleaning solution for CA80CR

Reagents/standard solutions/cleaner for analyzer

CY80CR-AF+TL (Australia)

Standard solution Cr (VI) 1,0 mg/l

Reagents/standard solutions/cleaner for analyzer

CY80CR-AF+TM (Slovakia)

Standard solution Cr (VI) 2,0 mg/l

Reagents/standard solutions/cleaner for analyzer

CY80CR-AF+TM (Czech Republic)

Standard solution Cr (VI) 2,0 mg/l

Reagents/standard solutions/cleaner for analyzer

CY80CR-AF+TO (Hungary)

Standard solution Cr (VI) 4,0 mg/l

Reagents/standard solutions/cleaner for analyzer

CY80CR-AF+SG (Malta)

Reagent set (SG) for CA80CR

Reagents/standard solutions/cleaner for analyzer

CY80CR-AF+TL (Switzerland (Italian))

Standard solution Cr (VI) 1,0 mg/l

Reagents/standard solutions/cleaner for analyzer

CY800-AFx1 (European Union)

Cleaning solution for CA80CR

Reagents/standard solutions/cleaner for analyzer

CY80CR-AF+TV (Bulgaria)

Standard solution Cr (VI) 250 mg/l

Reagents/standard solutions/cleaner for analyzer

CY800-AFx1 (Saudi Arabien)

Cleaning solution for CA80CR

Reagents/standard solutions/cleaner for analyzer

CY80CR-AF+TM (Romania)

Standard solution Cr (VI) 2,0 mg/l

Reagents/standard solutions/cleaner for analyzer

CY80CR-AF+TO (Portugal)

Standard solution Cr (VI) 4,0 mg/l

Reagents/standard solutions/cleaner for analyzer

CY80CR-AF+TL (Canada)

Standard solution Cr (VI) 1,0 mg/l

Reagents/standard solutions/cleaner for analyzer

CY80CR-AF+TL (Romania)

Standard solution Cr (VI) 1,0 mg/l

Reagents/standard solutions/cleaner for analyzer

CY80CR-AF+TL (Saudi Arabien)

Standard solution Cr (VI) 1,0 mg/l

Reagents/standard solutions/cleaner for analyzer

CY80CR-AF+SG (United Kingdom)

Reagent set (SG) for CA80CR

Reagents/standard solutions/cleaner for analyzer

CY80CR-AF+TG (Romania)

Standard solution Cr (VI) 0 mg/l

Reagents/standard solutions/cleaner for analyzer

CY80CR-AF+TL (Czech Republic)

Standard solution Cr (VI) 1,0 mg/l

Reagents/standard solutions/cleaner for analyzer

CY80CR-AF+TM (South Korea)

Standard solution Cr (VI) 2,0 mg/l

Reagents/standard solutions/cleaner for analyzer

CY80CR-AF+TV (Slovakia)

Standard solution Cr (VI) 250 mg/l

Reagents/standard solutions/cleaner for analyzer

CY80CR-AF+TV (South Africa)

Standard solution Cr (VI) 250 mg/l

Reagents/standard solutions/cleaner for analyzer

CY80CR-AF+TL (Malta)

Standard solution Cr (VI) 1,0 mg/l

Reagents/standard solutions/cleaner for analyzer

CY800-AFx1 (Bulgaria)

Cleaning solution for CA80CR

Reagents/standard solutions/cleaner for analyzer

CY80CR-AF+TG (European Union)

Standard solution Cr (VI) 0 mg/l

Reagents/standard solutions/cleaner for analyzer

CY80CR-AF+SG (India)

Reagent set (SG) for CA80CR

Reagents/standard solutions/cleaner for analyzer

CY80CR-AF+TM (Croatia)

Standard solution Cr (VI) 2,0 mg/l

Reagents/standard solutions/cleaner for analyzer

CY80CR-AF+SG (United Arab Emirates)

Reagent set (SG) for CA80CR

Reagents/standard solutions/cleaner for analyzer

CY80CR-AF+TG (Malta)

Standard solution Cr (VI) 0 mg/l

Reagents/standard solutions/cleaner for analyzer

CY80CR-AF+TV (United Arab Emirates)

Standard solution Cr (VI) 250 mg/l

Reagents/standard solutions/cleaner for analyzer

CY800-AFx1 (Estonia)

Cleaning solution for CA80CR

Reagents/standard solutions/cleaner for analyzer

CY80CR-AF+TO (Denmark)

Standard solution Cr (VI) 4,0 mg/l

Reagents/standard solutions/cleaner for analyzer

CY80CR-AF+TL (Ireland)

Standard solution Cr (VI) 1,0 mg/l

Reagents/standard solutions/cleaner for analyzer

CY80CR-AF+TM (United Arab Emirates)

Standard solution Cr (VI) 2,0 mg/l

Reagents/standard solutions/cleaner for analyzer

CY80CR-AF+SG (Australia)

Reagent set (SG) for CA80CR

Reagents/standard solutions/cleaner for analyzer

CY80CR-AF+TV (United Arab Emirates)

Standard solution Cr (VI) 250 mg/l

Reagents/standard solutions/cleaner for analyzer

CY80CR-AF+TM (Portugal)

Standard solution Cr (VI) 2,0 mg/l

Reagents/standard solutions/cleaner for analyzer

CY800-AFx1 (Ireland)

Cleaning solution for CA80CR

Reagents/standard solutions/cleaner for analyzer

CY80CR-AF+TM (Switzerland)

Standard solution Cr (VI) 2,0 mg/l

Reagents/standard solutions/cleaner for analyzer

CY800-AFx1 (Germany)

Cleaning solution for CA80CR

Reagents/standard solutions/cleaner for analyzer

CY80CR-AF+TV (Slovenia)

Standard solution Cr (VI) 250 mg/l

Reagents/standard solutions/cleaner for analyzer

CY80CR-AF+SG (Belgium)

Reagent set (SG) for CA80CR

Reagents/standard solutions/cleaner for analyzer

CY80CR-AF+TV (France)

Standard solution Cr (VI) 250 mg/l

Reagents/standard solutions/cleaner for analyzer

CY80CR-AF+TG (Mexico)

Standard solution Cr (VI) 0 mg/l

Reagents/standard solutions/cleaner for analyzer

CY80CR-AF+TO (Ukraine)

Standard solution Cr (VI) 4,0 mg/l

Reagents/standard solutions/cleaner for analyzer

CY80CR-AF+TG (Japan)

Standard solution Cr (VI) 0 mg/l

Reagents/standard solutions/cleaner for analyzer

CY80CR-AF+SG (Sweden)

Reagent set (SG) for CA80CR

Reagents/standard solutions/cleaner for analyzer

CY800-AFx1 (United Arab Emirates)

Cleaning solution for CA80CR

Reagents/standard solutions/cleaner for analyzer

CY80CR-AF+TV (Belgium)

Standard solution Cr (VI) 250 mg/l

Reagents/standard solutions/cleaner for analyzer

CY80CR-AF+TG (Czech Republic)

Standard solution Cr (VI) 0 mg/l

Reagents/standard solutions/cleaner for analyzer

CY80CR-AF+TO (Turkey)

Standard solution Cr (VI) 4,0 mg/l

Reagents/standard solutions/cleaner for analyzer

CY80CR-AF+TM (Switzerland (Italian))

Standard solution Cr (VI) 2,0 mg/l

Reagents/standard solutions/cleaner for analyzer

CY80CR-AF+TL (Spain)

Standard solution Cr (VI) 1,0 mg/l

Reagents/standard solutions/cleaner for analyzer

CY80CR-AF+TM (Japan)

Standard solution Cr (VI) 2,0 mg/l

Reagents/standard solutions/cleaner for analyzer

CY80CR-AF+TL (Belgium (Dutch))

Standard solution Cr (VI) 1,0 mg/l

Reagents/standard solutions/cleaner for analyzer

CY80CR-AF+TL (Sweden)

Standard solution Cr (VI) 1,0 mg/l

Reagents/standard solutions/cleaner for analyzer

CY80CR-AF+TV (New Zealand)

Standard solution Cr (VI) 250 mg/l

Reagents/standard solutions/cleaner for analyzer

CY800-AFx1 (South Africa)

Cleaning solution for CA80CR

Reagents/standard solutions/cleaner for analyzer

CY800-AFx1 (Canada)

Cleaning solution for CA80CR

Reagents/standard solutions/cleaner for analyzer

CY80CR-AF+TM (South Africa)

Standard solution Cr (VI) 2,0 mg/l

Reagents/standard solutions/cleaner for analyzer

CY80CR-AF+TL (Norway)

Standard solution Cr (VI) 1,0 mg/l

Reagents/standard solutions/cleaner for analyzer

CY80CR-AF+SG (Romania)

Reagent set (SG) for CA80CR

Reagents/standard solutions/cleaner for analyzer

CY80CR-AF+TO (Australia)

Standard solution Cr (VI) 4,0 mg/l

Reagents/standard solutions/cleaner for analyzer

CY80CR-AF+TV (Japan)

Standard solution Cr (VI) 250 mg/l

Reagents/standard solutions/cleaner for analyzer

CY80CR-AF+TV (Turkey)

Standard solution Cr (VI) 250 mg/l

Reagents/standard solutions/cleaner for analyzer

CY800-AFx1 (Spain)

Cleaning solution for CA80CR

Reagents/standard solutions/cleaner for analyzer

CY80CR-AF+TM (Germany)

Standard solution Cr (VI) 2,0 mg/l

Reagents/standard solutions/cleaner for analyzer

CY80CR-AF+SG (Netherlands)

Reagent set (SG) for CA80CR

Reagents/standard solutions/cleaner for analyzer

CY800-AFx1 (Finland)

Cleaning solution for CA80CR

Reagents/standard solutions/cleaner for analyzer

CY80CR-AF+TG (New Zealand)

Standard solution Cr (VI) 0 mg/l

Reagents/standard solutions/cleaner for analyzer

CY80CR-AF+TL (China)

Standard solution Cr (VI) 1,0 mg/l

Reagents/standard solutions/cleaner for analyzer

CY80CR-AF+TO (Bulgaria)

Standard solution Cr (VI) 4,0 mg/l

Reagents/standard solutions/cleaner for analyzer

CY80CR-AF+TG (United Arab Emirates)

Standard solution Cr (VI) 0 mg/l

Reagents/standard solutions/cleaner for analyzer

CY80CR-AF+TL (Slovakia)

Standard solution Cr (VI) 1,0 mg/l

Reagents/standard solutions/cleaner for analyzer

CY80CR-AF+SG (Austria)

Reagent set (SG) for CA80CR

Reagents/standard solutions/cleaner for analyzer

CY80CR-AF+TV (European Union)

Standard solution Cr (VI) 250 mg/l

Reagents/standard solutions/cleaner for analyzer

CY80CR-AF+TO (Greece)

Standard solution Cr (VI) 4,0 mg/l

Reagents/standard solutions/cleaner for analyzer

CY80CR-AF+TO (Netherlands)

Standard solution Cr (VI) 4,0 mg/l

Reagents/standard solutions/cleaner for analyzer

CY800-AFx1 (Poland)

Cleaning solution for CA80CR

Reagents/standard solutions/cleaner for analyzer

CY800-AFx1 (Switzerland)

Cleaning solution for CA80CR

Reagents/standard solutions/cleaner for analyzer

CY80CR-AF+SG (Japan)

Reagent set (SG) for CA80CR

Reagents/standard solutions/cleaner for analyzer

CY80CR-AF+TM (Greece)

Standard solution Cr (VI) 2,0 mg/l

Reagents/standard solutions/cleaner for analyzer

CY80CR-AF+TO (South Africa)

Standard solution Cr (VI) 4,0 mg/l

Reagents/standard solutions/cleaner for analyzer

CY80CR-AF+TO (USA)

Standard solution Cr (VI) 4,0 mg/l

Reagents/standard solutions/cleaner for analyzer

CY80CR-AF+TG (Saudi Arabien)

Standard solution Cr (VI) 0 mg/l

Reagents/standard solutions/cleaner for analyzer

CY80CR-AF+TM (Poland)

Standard solution Cr (VI) 2,0 mg/l

Reagents/standard solutions/cleaner for analyzer

CY80CR-AF+SG (Portugal)

Reagent set (SG) for CA80CR

Reagents/standard solutions/cleaner for analyzer

CY800-AFx1 (New Zealand)

Cleaning solution for CA80CR

Reagents/standard solutions/cleaner for analyzer

CY80CR-AF+TG (Switzerland)

Standard solution Cr (VI) 0 mg/l

Reagents/standard solutions/cleaner for analyzer

CY80CR-AF+TO (Spain)

Standard solution Cr (VI) 4,0 mg/l

Reagents/standard solutions/cleaner for analyzer

CY80CR-AF+TG (France)

Standard solution Cr (VI) 0 mg/l

Reagents/standard solutions/cleaner for analyzer

CY80CR-AF+TL (Denmark)

Standard solution Cr (VI) 1,0 mg/l

Reagents/standard solutions/cleaner for analyzer

New Analyzer Platform

製品コード: CA80CR-
宣言番号: EC_00116_02.15

Viomax, UV, Turbimax, TURBIDITY AND TOTAL SUSPENDED SOLIDS, TOCII, Stip-Scan, Stamolys, SPECTROMETER, OxyMax W, OxyMax H, New Analyzer Platform, Liquistation M, Liquiport, Isemax, Cell growth, Absorbance

製品コード: CAS40D-, CAS51D-, CAS74-, CAS80E-, CKF50-, CKI50-, COS22D-, COS31-, COS41-, COS51D-, COS61-, COS61D-, COS81D-, CSF48-, CSP44-, CUS50D-, CUS51D-, CUS52D-, CVF52-, CVI52-, OUSAF11-, OUSAF12-, OUSAF21-, OUSAF22-, OUSAF46-, OUSBT66-, OUSTF10-, CAM74-, CA71AL-, CA71AM-, CA71CL-, CA71COD-, CA71CR-, CA71CU-, CA71FE-, CA71HA-, CA71HY-, CA71MN-, CA71NO-, CA71PH-, CA71SI-, CA72TOC-, CA76NA-, CA80AL-, CA80AM-, CA80COD-, CA80CR-, CA80FE-, CA80HA-, CA80MN-, CA80NO-, CA80PH-, CA80SI-, CA80TN-, CA80TP-
地域: Russia (Declaration of Conformity)
認証番号: EAEC D-DE.AD07.B.01363/19

Viomax, UV, Turbimax, TURBIDITY AND TOTAL SUSPENDED SOLIDS, TOCII, Stip-Scan, Stamolys, SPECTROMETER, OxyMax W, OxyMax H, New Analyzer Platform, Liquistation M, Liquiport, Isemax, Cell growth, Absorbance

製品コード: CAM74-, CAS40D-, CAS51D-, CAS74-, CAS80E-, CKF50-, CKI50-, COS22D-, COS31-, COS41-, COS51D-, COS61-, COS61D-, COS81D-, CSF48-, CSP44-, CUS50D-, CUS51D-, CUS52D-, CVF52-, CVI52-, OUSAF11-, OUSAF12-, OUSAF22-, OUSAF46-, OUSBT66-, OUSTF10-, CA70SI-, CA71AL-, CA71AM-, CA71CL-, CA71CR-, CA71CU-, CA71FE-, CA71HA-, CA71HY-, CA71MN-, CA71NO-, CA71PH-, CA71SI-, CA72TOC-, CA76NA-, CA80AL-, CA80AM-, CA80COD-, CA80CR-, CA80FE-, CA80HA-, CA80MN-, CA80NO-, CA80PH-, CA80SI-, CA80TN-, CA80TP-
認証番号: EAEC RU D-DE.AD07.B.01362/19

New Analyzer Platform

製品コード: CA80AL-, CA80AM-, CA80COD-, CA80CR-, CA80FE-, CA80NO-, CA80PH-, CA80PHB-, CA80PHY-, CA80TP-
地域: International
認証機関: PI, PROFIBUS International

ACCESSORIES: COLORIMETRIC, New Analyzer Platform

製品コード: CA80TP-, CA80TN-, CA80SI-, CA80PHY-, CA80PHB-, CA80PH-, CA80NO-, CA80NA-, CA80MN-, CA80HA-, CA80FE-, CA80CR-, CA80COD-, CA80AM-, CA80AL-
ソフトウェアバージョン: 01.07

Liquiport, Liquistation M, New Analyzer Platform

製品コード: CA80COD-, CA80CR-, CA80FE-, CA80NO-, CA80PH-, CA80TP-, CSF48-, CSP44-
地域: Russia
認証機関: Rosstandart
認証番号: DE.C.31.004.A_66676

New Analyzer Platform

製品コード: CA80AL-, CA80AM-, CA80CR-, CA80FE-, CA80HA-, CA80MN-, CA80NO-, CA80PH-, CA80SI-
地域: Canada, USA
認証機関: CSA

Ordinary Location Product Safety
アクセサリ / スペアパーツ
CAV800 Maintenance kit Liquisystem CA8x

Kits with all maintenance parts for Liquiline System CA8x analyzers Content: dispensers, hoses, connectors, O-ring for the sample collector, filter mats. Optional: in-and outlet hoses(PA), Liquidmanager without motor (PT) or 2 sample collector beakers(PV)

アップグレード コード: Profibus DP モジュール 485

コードを入力しfieldbusプロトコルから Profibus DPへ変更します (機器のシリアル番号必要) CM442 / CM444 / CM448 / CSF48