Analog chlorine dioxide sensor CCS50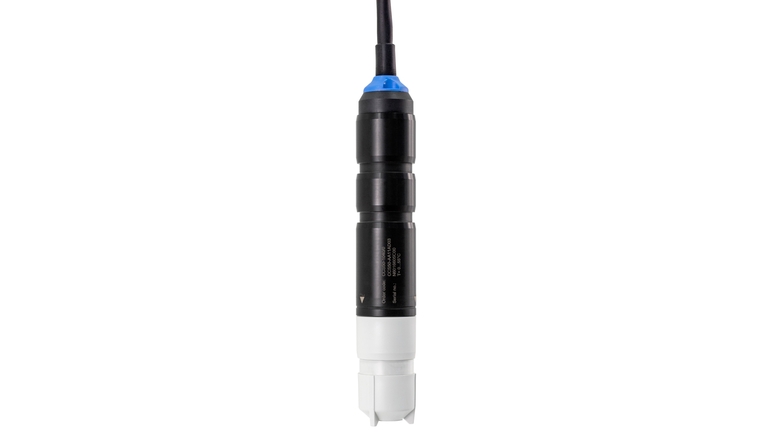 Sensor for water, process water and utilities in all industries
CCS50 is a robust, low-maintenance sensor for chlorine dioxide measurement. It provides stable and fast measured values in water, process water and utilities. The sensor ensures efficient disinfection even at minimum water volumes and helps to achieve highest water quality and safety, to avoid overdosing of chlorine dioxide or to ensure the absence of ClO2 in beverage plants and reverse osmosis. CCS50 ensures continuity for the installed base of analog chlorine dioxide measuring points.
標準的製品

高い信頼性と堅牢性、容易なメンテナンス
技術的卓越性
シンプルさ
特殊仕様の製品

要件の厳しいアプリケーション向けに設計
技術的卓越性
シンプルさ
FLEX セレクション
技術的卓越性
シンプルさ

Fundamental セレクション

基本的な測定要件に対応

技術的卓越性

シンプルさ

技術的卓越性

シンプルさ

Extended セレクション

革新的な技術でプロセスを最適化

技術的卓越性

シンプルさ

Xpert セレクション

最も困難なアプリケーションにも対応

技術的卓越性

シンプルさ
仕様一覧

測定範囲

微量:0~5 mg/l ClO2
標準:0~20 mg/l ClO2

プロセス温度

プロセス圧力

測定方法
クイック選択
推奨オプションから選択
個別のコンフギュレータ
すべての使用可能なオプションから選択を続行
利点

Fast response time (t90 < 15 s) provides an accurate process view and enables prompt reaction to process changes as well as efficient process control.

Increased process safety: precise and long-term stable measurement ensures consistent process...
アプリケーション

CCS50 is an analog chlorine dioxide sensor for skid builders and end customers. It measures reliably in:

Drinking water - to ensure sufficient disinfection

Cooling systems or towers - to avoid pathogen growth

Wash water for packed vegetables and salads...
ドキュメント/マニュアル/ソフトウェア
CCS50 技術仕様書

二酸化塩素測定用センサ

CCS50

二酸化塩素測定用センサ

CCV05-50x_51x (Greece)

Electrolyte for CCS50(D)/CCS51(D)

CCV05-50x_51x (Austria)

Electrolyte for CCS50(D)/CCS51(D)

CCV05-50x_51x (Estonia)

Electrolyte for CCS50(D)/CCS51(D)

CCV05-50x_51x (USA)

Electrolyte for CCS50(D)/CCS51(D)

CCV05-50x_51x (Netherlands)

Electrolyte for CCS50(D)/CCS51(D)

CCV05-50x_51x (Czech Republic)

Electrolyte for CCS50(D)/CCS51(D)

CCV05-50x_51x (Russia)

Electrolyte for CCS50(D)/CCS51(D)

CCV05-50x_51x (Canada)

Electrolyte for CCS50(D)/CCS51(D)

CCV05-50x_51x (Denmark)

Electrolyte for CCS50(D)/CCS51(D)

CCV05-50x_51x (Mexico)

Electrolyte for CCS50(D)/CCS51(D)

CCV05-50x_51x (Belgium (Dutch))

Electrolyte for CCS50(D)/CCS51(D)

CCV05-50x_51x (South Korea)

Electrolyte for CCS50(D)/CCS51(D)

CCV05-50x_51x (Ukraine)

Electrolyte for CCS50(D)/CCS51(D)

CCV05-50x_51x (Slovenia)

Electrolyte for CCS50(D)/CCS51(D)

CCV05-50x_51x (Japan)

Electrolyte for CCS50(D)/CCS51(D)

CCV05-50x_51x (Bulgaria)

Electrolyte for CCS50(D)/CCS51(D)

CCV05-50x_51x (Spain)

Electrolyte for CCS50(D)/CCS51(D)

CCV05-50x_51x (Norway)

Electrolyte for CCS50(D)/CCS51(D)

CCV05-50x_51x (Portugal)

Electrolyte for CCS50(D)/CCS51(D)

CCV05-50x_51x (Canada (French))

Electrolyte for CCS50(D)/CCS51(D)

CCV05-50x_51x (India)

Electrolyte for CCS50(D)/CCS51(D)

CCV05-50x_51x (Romania)

Electrolyte for CCS50(D)/CCS51(D)

CCV05-50x_51x (Latvia)

Electrolyte for CCS50(D)/CCS51(D)

CCV05-50x_51x (Switzerland)

Electrolyte for CCS50(D)/CCS51(D)

CCV05-50x_51x (China)

Electrolyte for CCS50(D)/CCS51(D)

CCV05-50x_51x (New Zealand)

Electrolyte for CCS50(D)/CCS51(D)

CCV05-50x_51x (Finland)

Electrolyte for CCS50(D)/CCS51(D)

CCV05-50x_51x (Sweden)

Electrolyte for CCS50(D)/CCS51(D)

CCV05-50x_51x (Switzerland (French))

Electrolyte for CCS50(D)/CCS51(D)

CCV05-50x_51x (European Union)

Electrolyte for CCS50(D)/CCS51(D)

CCV05-50x_51x (Lithuania)

Electrolyte for CCS50(D)/CCS51(D)

CCV05-50x_51x (Australia)

Electrolyte for CCS50(D)/CCS51(D)

CCV05-50x_51x (Croatia)

Electrolyte for CCS50(D)/CCS51(D)

CCV05-50x_51x (United Arab Emirates)

Electrolyte for CCS50(D)/CCS51(D)

CCV05-50x_51x (United Kingdom)

Electrolyte for CCS50(D)/CCS51(D)

CCV05-50x_51x (France)

Electrolyte for CCS50(D)/CCS51(D)

CCV05-50x_51x (Malta)

Electrolyte for CCS50(D)/CCS51(D)

CCV05-50x_51x (Hungary)

Electrolyte for CCS50(D)/CCS51(D)

CCV05-50x_51x (Slovakia)

Electrolyte for CCS50(D)/CCS51(D)

CCV05-50x_51x (United Arab Emirates)

Electrolyte for CCS50(D)/CCS51(D)

CCV05-50x_51x (Switzerland (Italian))

Electrolyte for CCS50(D)/CCS51(D)

CCV05-50x_51x (Germany)

Electrolyte for CCS50(D)/CCS51(D)

CCV05-50x_51x (Ireland)

Electrolyte for CCS50(D)/CCS51(D)

CCV05-50x_51x (Saudi Arabien)

Electrolyte for CCS50(D)/CCS51(D)

CCV05-50x_51x (Italy)

Electrolyte for CCS50(D)/CCS51(D)

CCV05-50x_51x (South Africa)

Electrolyte for CCS50(D)/CCS51(D)

CCV05-50x_51x (Turkey)

Electrolyte for CCS50(D)/CCS51(D)

CCV05-50x_51x (Belgium)

Electrolyte for CCS50(D)/CCS51(D)

CCV05-50x_51x (Poland)

Electrolyte for CCS50(D)/CCS51(D)

COY8-AACxxx (France)

zero point gel for disinfection sensors

COY8-AACxxx (Estonia)

zero point gel for disinfection sensors

COY8-AACxxx (Canada)

zero point gel for disinfection sensors

COY8-AACxxx (South Korea)

zero point gel for disinfection sensors

COY8-AACxxx (Greece)

zero point gel for disinfection sensors

COY8-AACxxx (India)

zero point gel for disinfection sensors

COY8-AACxxx (Switzerland (Italian))

zero point gel for disinfection sensors

COY8-AACxxx (Norway)

zero point gel for disinfection sensors

COY8-AACxxx (Austria)

zero point gel for disinfection sensors

COY8-AACxxx (Australia)

zero point gel for disinfection sensors

COY8-AACxxx (Slovenia)

zero point gel for disinfection sensors

COY8-AACxxx (Portugal)

zero point gel for disinfection sensors

COY8-AACxxx (United Arab Emirates)

zero point gel for disinfection sensors

COY8-AACxxx (Italy)

zero point gel for disinfection sensors

COY8-AACxxx (Turkey)

zero point gel for disinfection sensors

COY8-AACxxx (Belgium (Dutch))

zero point gel for disinfection sensors

COY8-AACxxx (United Arab Emirates)

zero point gel for disinfection sensors

COY8-AACxxx (Switzerland (French))

zero point gel for disinfection sensors

COY8-AACxxx (Japan)

zero point gel for disinfection sensors

COY8-AACxxx (South Africa)

zero point gel for disinfection sensors

COY8-AACxxx (Lithuania)

zero point gel for disinfection sensors

COY8-AACxxx (Switzerland)

zero point gel for disinfection sensors

COY8-AACxxx (China)

zero point gel for disinfection sensors

COY8-AACxxx (Romania)

zero point gel for disinfection sensors

COY8-AACxxx (Belgium)

zero point gel for disinfection sensors

COY8-AACxxx (Bulgaria)

zero point gel for disinfection sensors

COY8-AACxxx (Canada (French))

zero point gel for disinfection sensors

COY8-AACxxx (Netherlands)

zero point gel for disinfection sensors

COY8-AACxxx (Latvia)

zero point gel for disinfection sensors

COY8-AACxxx (Czech Republic)

zero point gel for disinfection sensors

COY8-AACxxx (Saudi Arabien)

zero point gel for disinfection sensors

COY8-AACxxx (Spain)

zero point gel for disinfection sensors

COY8-AACxxx (Hungary)

zero point gel for disinfection sensors

COY8-AACxxx (New Zealand)

zero point gel for disinfection sensors

COY8-AACxxx (Finland)

zero point gel for disinfection sensors

COY8-AACxxx (Denmark)

zero point gel for disinfection sensors

COY8-AACxxx (Ireland)

zero point gel for disinfection sensors

COY8-AACxxx (Slovakia)

zero point gel for disinfection sensors

COY8-AACxxx (United Kingdom)

zero point gel for disinfection sensors

COY8-AACxxx (Ukraine)

zero point gel for disinfection sensors

COY8-AACxxx (USA)

zero point gel for disinfection sensors

COY8-AACxxx (Malta)

zero point gel for disinfection sensors

COY8-AACxxx (Germany)

zero point gel for disinfection sensors

COY8-AACxxx (Poland)

zero point gel for disinfection sensors

COY8-AACxxx (Mexico)

zero point gel for disinfection sensors

COY8-AACxxx (Croatia)

zero point gel for disinfection sensors

COY8-AACxxx (Russia)

zero point gel for disinfection sensors

COY8-AACxxx (Sweden)

zero point gel for disinfection sensors

COY8-AACxxx (European Union)

zero point gel for disinfection sensors

ANALOG

製品コード: CCS50-
宣言番号: HE_01052_01.18

ANALOG, Sensor

製品コード: CCS50-, CCS51-
宣言番号: EC_00707_01.18

ANALOG, Chloromax, Liquiline, Memosens, Sensor

製品コード: CYM291-, CYM290-, CCS55D-, CCS51D-, CCS51-, CCS50D-, CCS50-, CCS241-, CCS240-, CCS142D-, CCS141-, CCS140-, CCS120D-, CCS120-
認証番号: EAEC RU D-DE.AD07.B.01362/19

SmarTec S, SmarTec, Sensor, Memosens, Liquisys Conductivity, Liquiline, InduMax P, InduMax H, ConduMax W, ConduMax H, Chloromax, ANALOG

製品コード: CLM253-, CLS12-, CLS13-, CLS15-, CLS15D-, CLS16-, CLS16D-, CLS19-, CLS21-, CLS21D-, CLS30-, CLS50-, CLS50D-, CLS54-, CLS54D-, CLS82D-, CYM290-, CLM223F-, CLM223-, CLD18-, CLD134-, CLD132-, CCS55D-, CCS51D-, CCS51-, CCS50D-, CCS50-, CCS241-, CCS240-, CCS142D-, CCS141-, CCS140-, CCS120D-, CCS120-
地域: Russia (Declaration of Conformity)
認証番号: EAEC RU D-DE.AD07.B.01363/19