Bluetooth搭載機器の活用事例のご紹介
現場機器に近付かずに機器のパラメータにアクセス
2016年にBluetooth機能を搭載したフィールド機器を発売して以来、レベル計、レベルスイッチ、流量計、水質分析計、温度計など様々なフィールド機器にBluetooth機能を搭載して提供しております。
2021年7月にはBluetooth機能を搭載した圧力伝送器をリリースします。
今回はBluetooth機能を搭載したフィールド機器と弊社アプリSmartBlueの活用事例について、ご紹介いたします。
Benefits
フィールド機器に近付かずに機器のステータスやパラメータにアクセス(最大15m*)

スマートフォンやタブレット(iOS、Android)から簡単に接続

IETF標準化団体に認められたセキュアな接続
SmartBlueでステータス、測定変数を簡単に確認
SmartBlueをインストールしたスマートフォンやタブレットとBluetooth機能を搭載したフィールド機器はログインを行うことで、機器のステータス、測定変数を確認することが出来ます。
Bluetooth機能を搭載したフィールド機器の近くに行くと、接続可能な機器がリストとしてSmartBlue上に表示されますが、一度ログインしたことのある機器はステータスと測定変数(PVとSV)も表示されます。
そのため、フィールド機器が設置されている場所まで行かずに、機器の状態や測定変数を確認することが出来ます。
機器の調整やループチェックも機器に近付かずに実施
Bluetooth機能を搭載したフィールド機器は、SmartBlueから0点調整やスパン調整を行うことが出来ます。
最新の圧力伝送器はSmartBlueにも設定のためのガイド付きウィザードメニューが搭載されていますので、ガイダンスに従うことで簡単に0点調整やスパン調整を行うことが出来ます。
セキュアな接続ですので安心してお使いいただけます
Endress+HauserのBluetooth接続は、フラウンホーファー応用統合セキュリティ研究所(AISEC)の分析の一環として、2016年に検証されています。同研究所は、インターネット環境での使用が推奨されているコアコンポーネントであるEndress+Hauserのセキュリティ層の保護レベルを「高」に分類していますので、安心してお使いいただけます。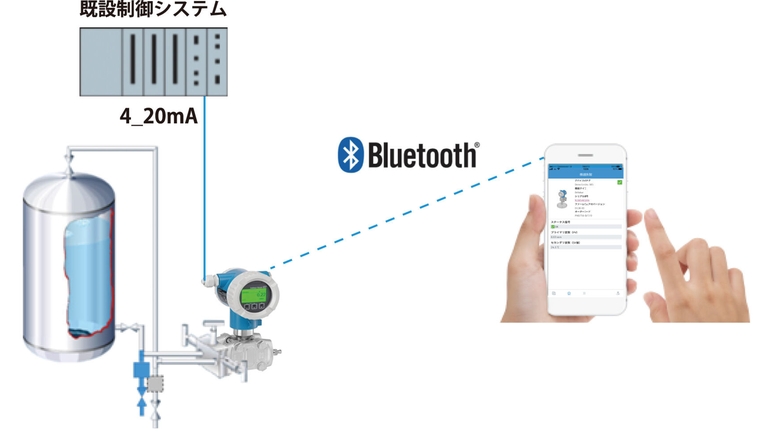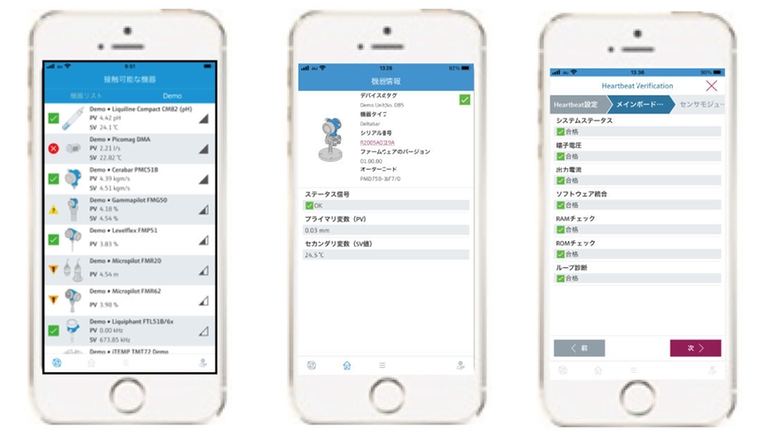 Related offering

Simple products

Easy to select, install and operate
Technical excellence
Simplicity
Standard products

Reliable, robust and low-maintenance
Technical excellence
Simplicity
High-end products

Highly functional and convenient
Technical excellence
Simplicity
Specialized products

Designed for demanding applications
Technical excellence
Simplicity
FLEX selections
Technical excellence
Simplicity

Fundamental selection

Meet your basic measurement needs

Technical excellence

Simplicity

Lean selection

Handle your core processes easily

Technical excellence

Simplicity

Extended selection

Optimize your processes with innovative technologies

Technical excellence

Simplicity

Xpert selection

Master your most challenging applications

Technical excellence

Simplicity
Success stories
The all-round carefree panel

Water Analysis Panels make continuous monitoring of drinking water easy at the water treatment plant in Frasnacht, Switzerland.

Reliable calibration using hydrocarbons

On the new factory calibration rig from Endress+Hauser, Wintershall Dea can now calibrate Promass F with hydrocarbons as legally mandated – a significantly cheaper option than on-site calibration.

Advanced bioprocess control

From time consuming sample analysis to real-time monitoring of critical parameters in fermentation processes thanks to complete solutions from hardware to development and analytical services.