Flow assembly
Flowfit CCA250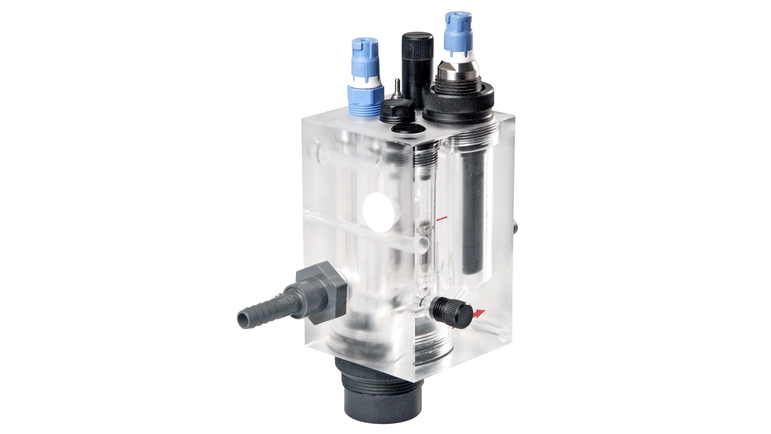 Assembly for chlorine measurement in drinking, industrial, and pool water
The Flowfit CCA250 flow assembly is specially designed to accommodate all sensors needed for accurate disinfection control - the chlorine sensor and the pH/ORP sensors for compensation and measurement. It increases the availability of sensors and offers an integrated flow alarm and adjustment to make sure that your bypass measurement is always operational. With CCA250, you have complete control of your disinfection processes and the water is always free of germs.
Quick selection
Choose from our suggested options
Individual configuration
Continue your selection from all possible options
Benefits

All sensors needed for disinfection measurement comfortably in one place

Suitable for all disinfection processes - free chlorine, chlorine dioxide, total chlorine and others

Cap screwed from below allows calibration of the pH and ORP sensors without...
Field of application

CCA250 is a flow assembly for the measurement of free chlorine, total chlorine and chlorine dioxide in:

Drinking water
- Trace and standard measurement in process water and distribution networks
- Monitoring, control and optimization of disinfection...
Documents / Manuals / Software
Accessories / Spare parts
Nr

110

Order code

71279210

Kit CCA250: Needle valve with o-ring

and locking screw M4x16

Nr

120

Order code

71279211

Kit CCA250: Blind plug CCS complete

Pressing screw, o-ring, blind plug

Nr

140

Order code

71279213

Kit CCA250: Floating element 316Ti

with blind plug

Nr

150

Order code

71279214

Kit CCA250: blind plug set

2x PG13,5 with thrust collar and o-ring Blind plug for float element with o-ring Blind plug CCS complete

Nr

170

Order code

50015691

inductive proximity switch

Alte Material-Nummer: 117298

Adapter NV 1/2 for CCA250

2 pcs. DA16 for pipe connection

Adapter SV 1/2 for CCA250; equal

Hose connection: 2 pcs. D6/12

Adapter SV 1/2 for CCA250, diff.

Hose connection: 1pc D6/12 and 1pc D16